Destination: Net Zero -
Six Steps to Address Climate Protection Goals for the Decisive Decade
Increasingly companies around the world are under pressure to respond to global climate change. These pressures from stakeholders and corporate best practice sharing has culminated in a turning point. From net zero buildings to on-site renewables, the opportunities are endless.
This white paper outlines a step‑by‑step process for corporate leaders to address growing concerns from the investment community, broader society, and other stakeholders. The time is now to establish your path to Destination: Net Zero and CFOs are recognizing the near-term need to address global climate change.
The paper highlights how energy solutions with creative financing business models -- like Energy as a Service -- can address many of the all-too-common internal obstacles to planning and implementing net zero programs.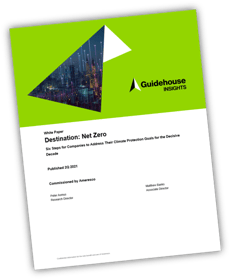 Table of Contents:
Why companies are moving on climate change

Moving forward on climate issues: five key drivers

The Practical Path to Net Zero: A Six-Step Approach

Addressing barriers and measuring progress