FREE WHITE PAPER: Making Your Organization carbon neutral with Renewable Natural Gas
The growing importance of sustainability is cultivating demand for comprehensive energy solutions that can help organizations achieve their environmental goals.
On a mission to reduce their carbon footprint, many companies and institutions are turning to RNG to replace reliance on fossil fueled natural gas. Learn more about how this green gas can become part of your energy strategy.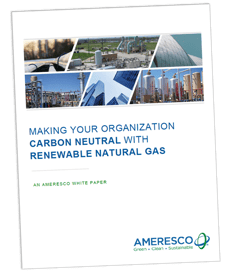 Download the white paper to answer the most common questions that we are asked:
What is RNG? Where does it come from?
What are the benefits?
Who is using it to replace conventional natural gas?
How can my organization consider RNG as part of our energy strategy?